For the days when hope seems hard to find — or hard to hold on to — here are ten great Bible verses on hope and ten great "hope" quotes (okay, eleven — there's a bonus quote at the end)! I hope they encourage your heart today:
[Note: If you're receiving this post by email, it's possible your server may not download and display the images correctly. Click here to open your browser and view the images online.]
Verses:
Quotes: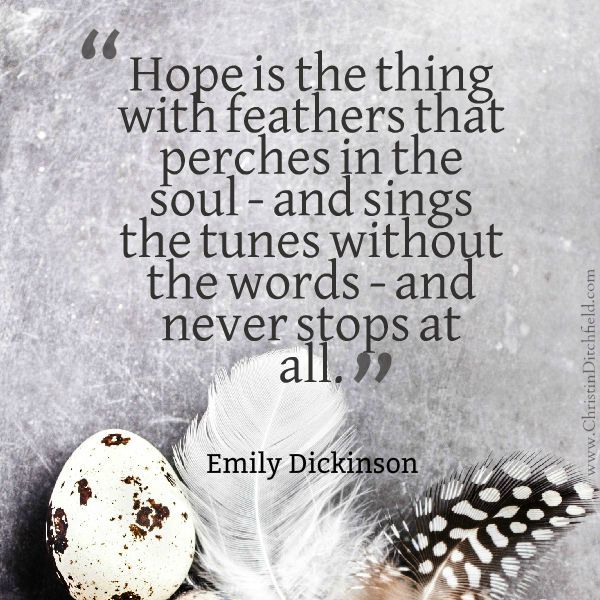 There are many more wonderful verses and quotes on hope, of course. (Scroll down to the very end for your bonus quote!) I'd love to hear your favorites…
Virtual VBS Assignment:
We're in Week Four of Five in our free online summer Bible study, Virtual VBS for GrownUp Girls: Holding on to Hope… When Life Is Hard. If you're participating, here are your instructions for this week:
Read: Romans 5:1-5, Romans 12, and James 1:2-4 if you haven't already.
Memorize:  1 Peter 1:13. It's also on our VBS Pinterest board.
Reflect: Choose one of the verses or quotes above to journal on this week. If you need some questions to get you started, here are a few to consider:
Why did you choose this particular piece?
If you chose a quote, do you agree or disagree with the author? Have you experienced what they're talking about — and if so, when? Would you put it differently?
If you chose a Scripture, was it new to you or a familiar verse, with a history for you? What does it mean? How do you relate it to your past?  Your present?  Your future?
If you're not big on writing out your thoughts, just think through them while you go for a drive or a walk or ask a friend over for coffee — preferrably one who's a good listener :)